File SyncForce and PB SyncForce
File SyncForce is a state-of-the-art program that performs file synchronization between PCs, FTP, hard drives, client/server networks, and laptops (new online videos). It has the capability of performing automatic scheduled syncs and backup operations while you are running other programs. Protect your vital corporate data while easing local development and minimizing network traffic!

File Syncforce now supports FTP and Powerbuilder - Download it now

File SyncForce now supports file storing - versioning via SourceForce (video), a simple yet powerful file-based source control versioning system - a differencing system which saves only the differences between file versions, saving lots of disk space. Also, you can zip up the these difference files, to lower the number of files on your system, keeping your directory organized, while yet saving more disk space via differencing and zip compression - very powerful.

File SyncForce automatically detects which files in a directory have changed, synchronizes those changes to a destination directory, and then logs which files have been synchronized.
Ensure that your valuable corporate data is properly backed up and protected.
Save yourself the embarrassment, frustration, and anguish that comes with losing valuable company and personal files.

Question answers and additional help (instructional videos) to the help file.
If you wish to use a test program to test File Syncforce then click here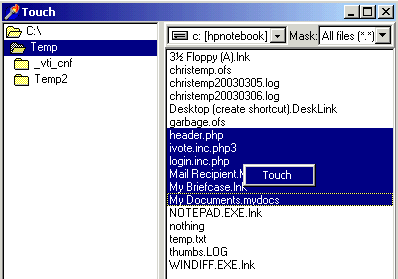 Right-click and select 'Touch' to change the date/time of the selected files to the current date/time. You can test this with your source and destination files.
Never Work On Outdated Files Again
Files get out of sync when you or your co-workers are continually adding, deleting, rearranging, and updating files throughout the day. At the end of the day, can you rest assured that you have the latest updated file versions? You could manually perform this tedious, time-consuming task using Explorer, but that would easily slow your business production. Valuable hours are wasted searching through countless files and folders for the latest version!

Stay in Sync With File SyncForce!
You need a tool that can ensure that files between hard drives, PCs, laptops, and networks remain consistent with the latest up-to-the-minute versions, whether you're at the workplace, at home, or on the road. File SyncForce solves this problem by ensuring file and directory consistency.

Features
Look what File SyncForce can do for you!

Network traffic is minimized.
Sync your files automatically.
Automatic scheduled backups.
Detect file changes at preset intervals.
Protect your vital corporate data.
Replicate entire directory branches or individual files.
Prevents data loss from update conflicts.
Never work on outdated information again.