Object Explorer
This powerful utility displays applications, libraries, and objects by file directory, hierarchy, or application library. This is the only program that performs global search and replace throughout an entire application! Check out the recent enhancements.

Search Your Libraries Fast
Object Explorer is the easiest and fastest way to search your libraries for any piece of code you can't find! Now available in Plus, Standard, and Executive versions, Object Explorer is a must-have for every PowerBuilder programmer out there!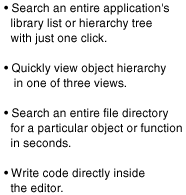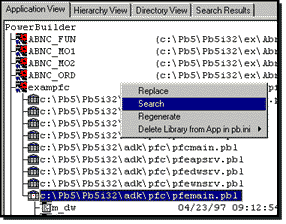 Features
Whether you're a seasoned PowerBuilder pro or just starting out, ObjectForce has the right version for you.
Plus: View applications, libraries, and objects in three different views. Search and replace globally. No write capability.

Standard: Adds the ability to write code directly inside the editor. Search selection is increased to include object-type selection. Search results provide more information with the flexibility of replace and undo.

Executive: Allows the enterprise to perform consistent migrations among all corporate applications with multi-search and replace. No other utility can do this like Object Explorer Executive!

Check out these other great features now!